Bathing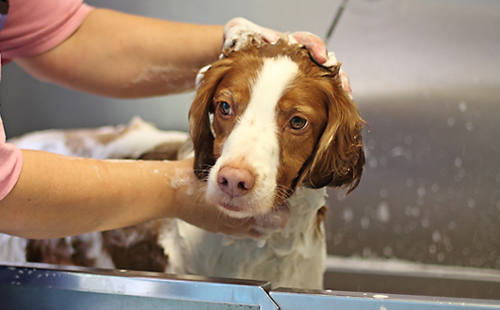 Who doesn't enjoy a day at the spa? Treat your pet to a refreshing bath with one of our professional bathers. Your dogs appointment will include a Hydrosurge bath, drying, ear cleaning, nail trim and brush out.
For the health of your pet, proof of vaccination will be required prior to acceptance for bathing. Vaccinations must be current for the year and include Rabies, Distemper, Parvo, and Bordetella.
Pricing
Bathing is available by appointment Monday - Saturday. Rates start at $25.00 per appointment, actual amount will be determined by breed and condition of coat.
---
Monday

7:00am - 6:00pm

Tuesday

7:00am - 6:00pm

Wednesday

7:00am - 6:00pm

Thursday

7:00am - 6:00pm

Friday

7:00am - 6:00pm

Saturday

8:00am - 6:00pm

Sunday

3:00pm - 5:00pm




for pick up/drop off
Closed 12-1pm daily
Tours of the resort are available Monday - Saturday.
We are located at 2193 Parkway Lake Drive in Hoover, Alabama. We can be contacted by phone at (205) 397-3197 or email at pamperedpethoover@gmail.com for reservations or questions.