Dog Boarding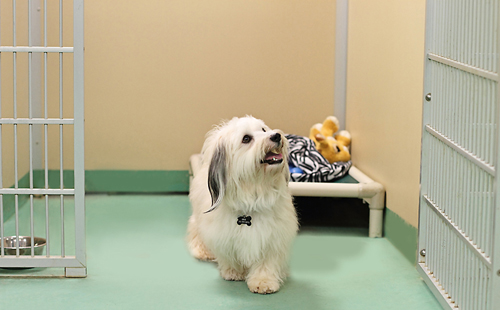 As our guest your dog will enjoy their stay in clean, climate controlled accommodations. We encourage you to bring some of the comforts of home such as a toy or bed/blanket to enhance their stay. Please ensure anything you bring is labeled with their name and would be safe in a boarding environment.
Each guest will enjoy room service two or more times a day. We feed sensitive stomach kibble or you can bring premeasured food from home.
Guests will be taken out for potty and play breaks a minimum of four times a day.
Spacious Runs
Each of our 84 spacious runs are designed for the maximum comfort of our guests. Each run is 4ft by 5ft and has a Kuranda bed.
Furnished Luxury Suites
In each of our thirteen luxury suites we have fun themes such as bark n roll, war eagle, roll tide, bow wow west, bone voyage… Each suite is 6ft by 8ft and furnished with a bed.
Please note that for your dogs safety only dogs from the same family will be allowed to board together overnight. Vaccinations must be current and include Rabies, Bordetella (canine cough) and Dispemper/Parvo. Boarders must be flea and tick free and at least 4 months of age.
Pricing
Dog Boarding Rates Per Night
Spacious Run
Suite
There is a $3.00 per stay/per pet health warranty fee. This is good for 7 days after your pet returns home.
1 Dog
$40.00
$59.00
2 Dogs
$76.00
$112.00
---
Monday

7:00am - 6:00pm

Tuesday

7:00am - 6:00pm

Wednesday

7:00am - 6:00pm

Thursday

7:00am - 6:00pm

Friday

7:00am - 6:00pm

Saturday

8:00am - 6:00pm

Sunday

3:00pm - 5:00pm




for pick up/drop off
Closed 12-1pm daily
Tours of the resort are available Monday - Saturday.
We are located at 2193 Parkway Lake Drive in Hoover, Alabama. We can be contacted by phone at (205) 397-3197 or email at pamperedpethoover@gmail.com for reservations or questions.