Cat Boarding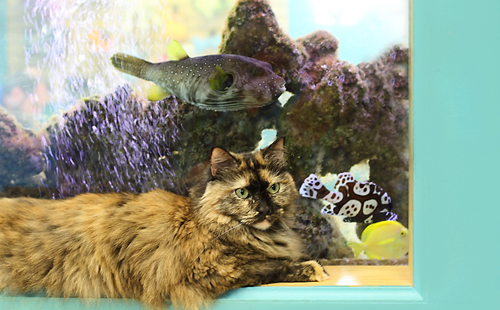 Our cat room is the cat's meow… lots of entertaining and relaxing activities. We feature two room cat condos for your cat's relaxation and comfort. For their individual playtime they can participate in climbing activities and chasing the fish behind the glass of our 75 gallon salt water aquarium or watching the birds at the feeder outside while in the floor to ceiling window.
Please note that only cats from the same family will be allowed to board and have playtime together.

Guests must be at least 4 months of age, flea and tick free and current on Rabies, FVRCP, and Feline Leukemia vaccinations.
Pricing
The rate for a condo is $15.50 per day, with a 25% discount for the second feline in the same condo.
There is a $3.00 per stay/ per pet health warranty fee. This is good for 7 days after your pet returns home.
---
Monday

7:00am - 6:00pm

Tuesday

7:00am - 6:00pm

Wednesday

7:00am - 6:00pm

Thursday

7:00am - 6:00pm

Friday

7:00am - 6:00pm

Saturday

8:00am - 2:00pm

Sunday

3:00pm - 5:00pm




for pick up/drop off
Tours of the resort are available Monday - Saturday.
We are located at 2193 Parkway Lake Drive in Hoover, Alabama. We can be contacted by phone at (205) 397-3197 for reservations or questions.